There are THOUSANDS of westerns for our subscribers on The Westerns Channel
HERE IS A VERY SMALL SAMPLE OF THE THOUSANDS OF WESTERNS WE HAVE.
ENJOY!
FREE WESTERN MOVIE SAMPLES
FREE WESTERN TV SHOW SAMPLES
The Lone Ranger and Tonto visit Phil Beach, an ex-bandit who was sent to prison by the Ranger but has now gone straight.
Beach has become a Lincoln impersonator and delivers the Gettysburg Address annually at the town's festivities dressed as Honest Abe.
Beach is frustrated that Seth Hawkins, his estranged father-in-law, will not lend him the money to send his ailing wife to
a prescribed six months stay at a sanatorium. When Lefty, one of his ex-gang members, shows up that day and suggests a bank
robbery, Beach proposes that the bandit don the Lincoln makeup and provide him with an alibi while he robs his miserly
father-in-law's hidden cache of money. The "friend" wants more than his promised share and double-crosses Beach by taking
the entire haul. After Lefty falls to his death trying to get away, it would seem that Beach is in the clear. However,
the Ranger had noticed that the Lincoln impersonator gestured with his left hand during the oration and suspects what has transpired.
Director: Earl Bellamy
Writers: DeVallon Scott (screenplay), George W. Trendle (creator)
Stars: Clayton Moore, Jay Silverheels, James Griffith
EPISODE 1 OF SEASON 2 of The Forsaken Westerns.
A Tale of Wells Fargo
This is the rarely seen pilot for the wonderful Tales of Wells Fargo series.
1956
Director: Bernard Girard
Writers: Zane Grey (story), Frank Gruber (story)
Stars: Dale Robertson, Helen Westcott, Paul Fix
Stuart Randall, Ray Teal, George Chandler, Kit Carson.
This is episode 30 of The Forsaken Westerns, an original TV series produced by Westerns On The Web Productions.
The Forsaken Westerns series contains episodes of TV shows that were never broadcast or have not been broadcast in as
many as 65 years. Almost lost forever, these rare television film treasures are now being released and uploaded for viewing collection.
The Forsaken Westerns is hosted by Bob Terry.
Released in 1932 and
Starring
Ken Maynard,
Ruth Hall,
Alan Roscoe
Blaze Howell stops a train holdup, but not is all that it appears to be. Very quickly Blaze is accused of the robbery and he has to make a quick getaway.
Also to complicate matters he gas a girl he is in love with that he just can't stay away from.
HUNDREDS OF FULL LENGTH WESTERN MOVIES,HUNDREDS OF CLASSIC TV WESTERN EPISODES, THE NEW ORIGINAL SERIES – THE FORSAKEN WESTERNS- (classic western TV show episodes, many that were never broadcast to the public)
(some of the episodes of this series are available for free viewing on the Westerns On The Web youtube channel)
(But many will only be available on WesternsChannel.com for our subscribers),  INTERVIEWS WITH WESTERN STARS.
HOW TO WATCH WESTERNS CHANNEL ON YOUR SMART TV.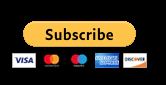 Subscribe to The Westerns Channel for only $7.00 per month and watch THOUSANDS of Classic Westerns and Original new series shows.
One of our goals is to create a network of subscribers who love Westerns.
The more subscribers we have the more Classic Westerns we can provide. Also once Westerns Channel acquires enough subscribers our goal is to begin producing
New Western films of Quality.So if you love Classic Westerns and would like to see New Westerns produced, spread the word about WESTERNSCHANNEL.COM
 THOUSANDS OF WESTERNS.
 Western MOVIES & TV EPISODES added almost daily!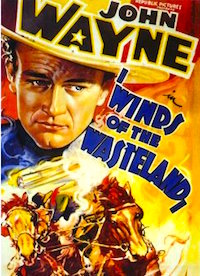 Watch WesternsChannel.com on your big screen smart TV.
If you have the internet app on your smart TV like the Samsung Electronics 6 series MU6070 Samsung TV does.
Then you can watch Over 1000 Classic Westerns and Original new shows. All you have to do is navigate to WesternsChannel.com
and use your username and password to log in. SUBSCRIBE to WesternsChannel TODAY for only $7.00 per month.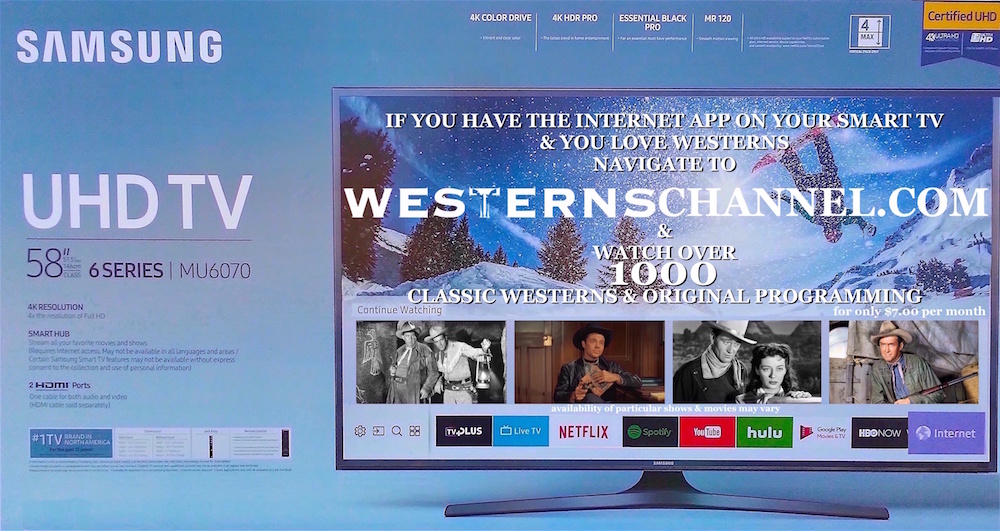 Viewing experience can vary depending on users internet quality.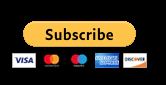 The Top 50 Most Popular Western TV Series